---
Harley Davidson
Rose City Motorcycle Club
&
Multnomah County Sheriffs Motorcycle Drill Team
Pictures
Includes pictures of Joe Neys
posted by his son David Neys
Don't miss his "Hill Climbing" pictures also below.
---
Drill Team Pictures!
001 - Simple introduction from a Grandchild.
002 - A list of Names and Stunts done.
003 - Joe does a 1 foot seat stand.
004 - Now Joe is doing a handstand while Dillon does a "no hands ma"
005 - High speed jump over the cops on the ground. Not for the weak.
006 - Joe sits on Dillon's shoulders while standing on back
007 - I count 4 on a Harley with Joe on his head and feet in the air.
008 - 5 on a bike with Joe upside down. AGAIN!
009 - DUCK! Here he comes.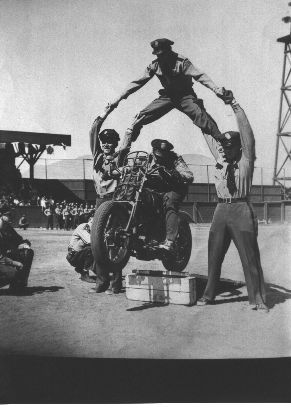 010 - (no picture available)
011 , 012 - Scanned pages from his Police Reporter magazine back in the 40s
013 - I have no idea how they ever survived this stunt!
014 - Emil Kreofsky jumps the ring of fire
015 - Emil again doing daredevil acts.
016 , 017 - Brochure from a show in later years.
018 - Newspaper clipping from the "Oregon Journal"
019 - Joe (center) and 2 partners. (do you know them?)
020 - Front cover of the Parts Catalog I have.
(MORE PICTURES BELOW!!)
My mother (Joe's wife "Helen") gave me a little background on Dad's past...........
The Rose City Motorcycle team is in very few of the pictures. Most of them are from the Multnomah County Sheriff Reserve Motorcycle Stunt Team. It was a very exclusive group and several were made reserve just so they could be on the team.
Joe Neys was a Multonomah County Sheriff. I don't remember how many years he was employed there.
Some of the old-timers in Condon can remember when the team performed at the fairgrounds in Condon where Joe raised his family, but that was before Joe was a member of the team.
Most of the b/w pictures were taken at Vancouver BC or in Reno. The colored were taken in Portland one Sunday when Joe couldn't get there. He felt bad because he wasn't in those pictures. He quit the team just before his middle son Dave was born. He felt he could not spare the time to go to practice in Portland every week (from Condon) and that it was not fair to the other team members.
Just a little background information to go with your memorabilia.
Love, Mom
---
HILL CLIMBING WAS ALSO A FAVORITE ACTIVITY
021 - HILL CLIMBS! Some Harley Garb. (Joe in "SWISH" helmet)
--------------------------- Sequential Pictures below -------------------
022 - Oh no Joe! .... Something doesn't look quite right here?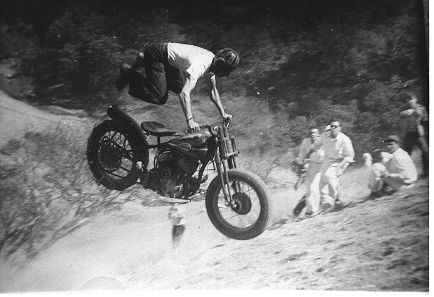 023 - I don't think you will make the top in that position!
024 - Inside cover of cycle magazine.
025 - JOE MAKES THE FRONT PAGE OF "CYCLE MAGAZINE"
026 - This is gonna hurt!
027 - "Oregon Journal" shows the whole mishap.
--------------------------------------------------------------------------
028 - Dancing with his Harley
029 - THE WHEELS ARE SUPPOSED TO BE DOWN JOE!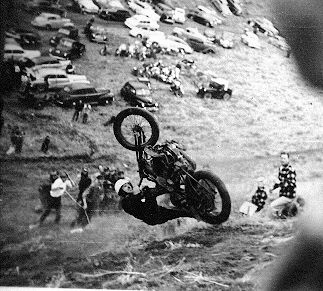 030 - Given her all she's got as he tops the hill.
031 - I don't think Joe made it this time. :(
032 - NOPE... he didn't.
033 - Joe Worked at East Side Motorcycle back then.
034 - Here's what East Side had to say about Joe's Cycle Magazine picture
035 - Front cover of 1975 cycle's anniversary issue and Joe's 1949 picture was on the inside.
036 - A snapshot with a few friends.
037 - RENO!
038 - They made several trips to Reno 039
040 - Lined up Salute!
---
Got a question or comment?.....
E-Mail Dave at:
Page last updated 10/21/2004